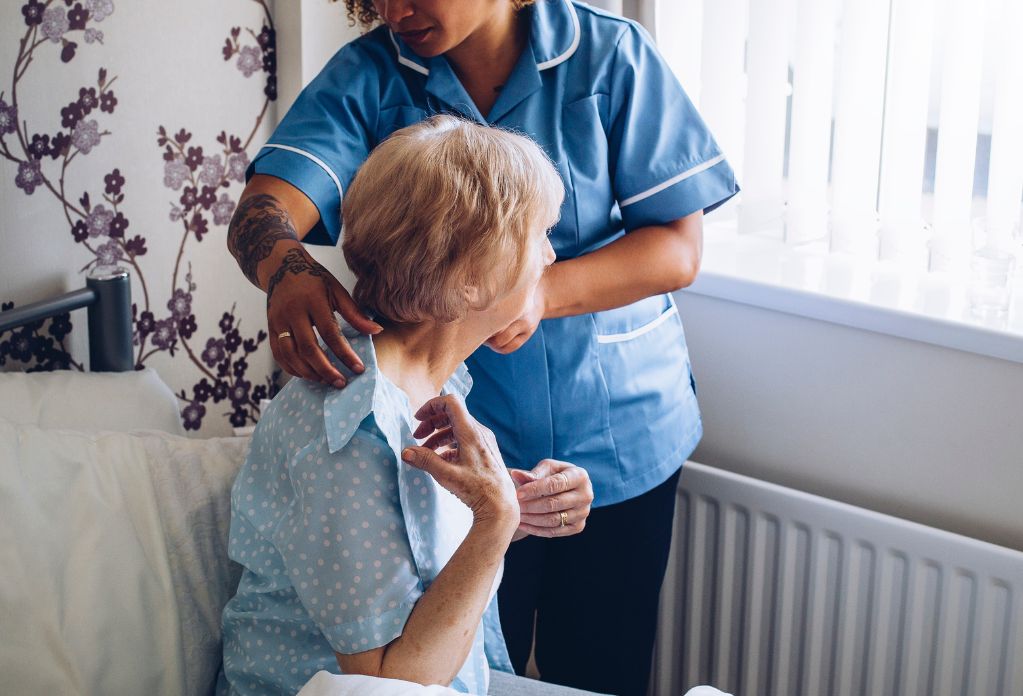 Labour abuse and exploitation in the care sector are hardly new. Industries with high numbers of temporary and transient staff, where the labour supply chain is complex and far reaching, tend to create more risks for workers. And adult care is no exception. 
But recent media reports, together with data from Unseen's Modern Slavery & Exploitation Helpline, point to the problem escalating.
In 2022 the number of potential victims of labour exploitation identified by the Helpline increased from 106 in 2021 to 708 for the year.
That's a mind-boggling annual jump of more than 1,000%. 
Difference between labour abuse and labour exploitation
When talking labour abuse and labour exploitation (also known as forced labour), it's useful to understand the difference.
Such cases are on a spectrum that starts with:
1. Poor working practices, such as casual workers being charged administration fees for the job.
The spectrum then moves to:
2. Labour abuse, for example unreasonable charges for live-in accommodation.
Finally there is:
3. Labour exploitation or forced labour. An example of this is a person being made to work to pay off a huge debt to an "agency" or individual that has given them a job and feeling they have no choice (a practice known as debt bondage or bonded labour).
This is a modern slavery offence.
Labour abuse and forced labour victims can be from any background and any nationality.
But what particularly stands out from the latest Helpline figures for the care sector are the numbers from overseas – particularly individuals from India, Zimbabwe and Nigeria.
Example of labour abuse in the care sector
Take the case of Chloe (we've changed her name to protect her identity).
Chloe contacted Unseen's Helpline to say she had had to pay recruitment fees to an agency of more than £8,000.
In addition, she had deductions taken from her wages each month, with no explanation of why they were being made.
Chloe told Unseen that she was working 12- to 14-hour shifts, with little or no breaks.
If she complained, she was verbally abused and told she would be sent back to the country she came from.
"This is typical of the type of case we are getting at the Helpline," says Unseen Director Justine Carter.
"There are issues across the board, from unscrupulous employment agencies to employers who either don't know what is happening on the ground, or turn a blind eye."
Care sector recruitment overseas
It's no secret that there are a huge number of vacancies in the care sector. 
So to help plug the gap, the Government has made it easier for overseas social care staff to work in the UK.
By March 2023, it had issued some 102,000 Skilled Worker – Health and Care visas to foreign workers. 
But while international recruitment was being billed as a solution, it also brought with it its own problems, for both recruited and recruiter.
Risks of abuse for workers in the care sector
It is now very clear that there are significant risks for workers travelling to the UK on such visas, which can leave them vulnerable to unscrupulous employers and recruitment agencies. Risks include:
Low pay that is less than you were anticipating, combined with higher-than-expected living costs
Exorbitant "fees" paid to the recruiter for a range of services, from training to accommodation and transport
Difficulty finding somewhere to live, which can leave workers at the mercy of an agent or employer
Little understanding of employment rights and language barriers that compound the problem.


Risks of overseas recruitment to businesses
Recruitment from overseas can also be a complex and lengthy process for employers in the care sector. Issues include:
High staff turnover and shortages, leading to increased use of agency workers
Identifying legitimate employment agencies
High fees from agencies, that could be bona fide or inflated by middle men and women
Difficulty navigating the administrative process
Organising travel arrangements for workers once in the UK, including getting to site and clients' homes
Providing pastoral support for new recruits
An already overstretched workforce, meaning it's easier to miss the warning signs of exploitation.

"Of course, there are many decent employers in the care sector who take people on the visa scheme from employment agencies in good faith," says Justine Carter.  
"Little do they know that the individual might have paid an exorbitant down-payment to the agency and is still being ripped off with their accommodation and other 'fees'."
Care sector exploitation – solutions
Early in 2023, the Government announced funding to support employers with international recruitment in adult social care over 2023-2024 and encourage ethical employment practices.
"The Employment Agencies Standards Inspectorate also has a key role to play," says Justine Carter.
"It can ensure recruitment agencies operate legally and have the right checks in place to ensure workers are not exploited.
"If you are an employer or a worker who has any concerns about recruitment or working conditions, I would urge you to contact our Helpline, where a trained advisor can tell you what to do next."
The Helpline is free and open 24 hours a day on 08000 121 700.
Support for employers: tackling exploitation and responsible recruitment
Unseen works with businesses from the care sector, helping them reduce the risks of exploitation, and address any issues, in their own operations and supply chains.
We can help with anything from site visits to check on worker welfare, to support with policies and processes.
Additionally, we have developed a comprehensive responsible recruitment toolkit in collaboration with the Recruitment & Employment Confederation.
This free resource is tailored specifically for small and medium-sized (SME) recruitment agencies. It provides practical guidance, hints, and tips to help you tackle worker exploitation while promoting worker rights and ethical recruitment.

Want to know more? Get in touch at [email protected] or call 0303 123 0021 to learn more and request your free copy of the SME recruitment toolkit.