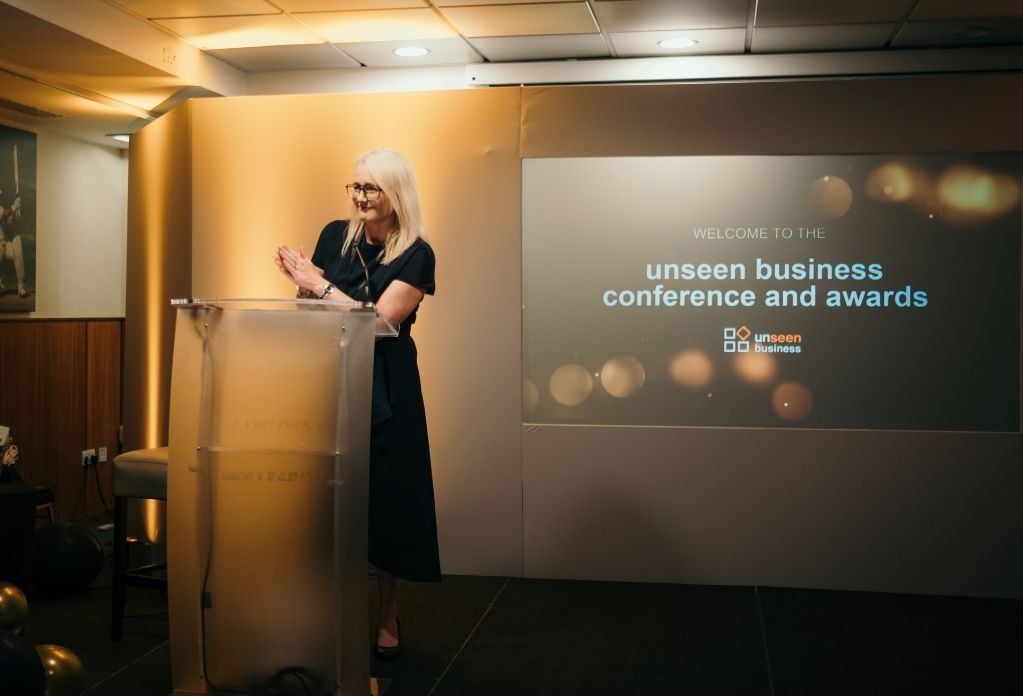 Congratulations to the Winners of Unseen's Business Awards 2023 and many thanks to all who submitted their remarkable entries and to those who attended the Awards event.
Since 2017, Unseen's Business team has supported hundreds of organisations to tackle modern slavery across their operations and supply chains. These awards recognise the exceptional work, achievements and dedication of businesses and individuals in addressing this global issue.
The Business Conference and Awards took place at London's Kia Oval on 21 September, drawing many participants from various sectors.
Check out our inspiring winners and their stories, below.  
Innovation Award – Marshalls Business and Human Rights team
In the past year, the Marshalls Business and Human Rights team has been at the forefront of innovation, which included fostering interdepartmental collaboration to gain a deeper understanding of their supply chain risks.
Marshalls assessed regional and national risks in their highest-risk supply chains using tools designed by Verisk Maplecroft. As a result, they have steered their strategy and resource allocation in new directions.
But that's not all. The team has crafted human rights and environmental due diligence reports for all their natural stone suppliers and mapped out their supply chain in its entirety.
Now, they're internally promoting ingenious tools like the "Everyone's Business App" to gauge on-site conditions, and gearing up to pilot a worker helpline.
According to our judges, Marshalls' "adoption of third-party analytical risk tools, engagement with social auditors, and use of assessment tools during supplier visits show an innovative approach to identifying and addressing supply chain risks."
Runner-up
Business Impact Award – Shiva Hotels
Shiva Hotels is leading a transformative charge against modern slavery, setting a powerful example for the hospitality sector and beyond.
Shiva has given modern slavery training to its entire workforce, creating a culture of awareness and helping staff identify and report potential issues.
Their robust supply chain due diligence, including regular audits and assessments, ensures supplier compliance with their code of conduct.
Of particular note to our judges is Shiva's direct support for victims through its Employability Programme in partnership with the Sophie Hayes Foundation. Among other things, this initiative offers valuable work experience to survivors of modern slavery.
Shiva Hotels has also helped shape the Shiva Foundation's Stop Slavery Blueprint which sets out principles for hotels, to inspire others in the industry.
Runners-up
AllianceBernstein
Themis
RedFlag Accelerator, RedCompass Labs
Individual Impact Award – Madeline Fitton, Sodexo
Madeline Fitton, of sustainable food company Sodexo, has proven herself a trailblazing leader, reshaping the food services industry.
Madeline pioneered modern slavery frameworks that are now at the heart of the company's operations. She also set up the Service and Infrastructure Project Providers Modern Slavery Council, an alliance that brings together industry giants to unite against modern slavery.
Within a year, the Council has grown to 20 member companies with support from Hope for Justice's Slave Free Alliance and Government backing.
The Council's first achievement was the development of a modern slavery toolkit, offering the facilities management and construction industries vital insights into identifying and addressing modern slavery risks.
Runners-up
Andy Bacon, Scape
Emily Cross, Nestlé UK
Dr Maryan Lotfi, Cardiff University
Unseen's Star Award – Charlotte Davis, Lloyds Banking Group
Charlotte is incredibly engaged and committed to improving the modern slavery approach of Lloyds Banking Group.  
Charlotte has commissioned many important pieces of work and is dedicated to ensuring the Group do everything they can to tackle modern slavery.
She has successfully undertaken the challenging task of engaging teams outside of Sustainable Business from across the organisation, including Group Sourcing, People and Places and Customer Inclusion, to ensure modern slavery is being tackled holistically.
She has encouraged suppliers to engage with the agenda, as well as engaging wider teams across the business to agree on funding a supplier training day for their construction, facilities, manufacturing and goods suppliers.
Other innovative pieces of work commissioned by Charlotte include an informative video on modern slavery to be watched by colleagues, and a new set of resources for their Construction and Facilities teams that promote the Modern Slavery & Exploitation Helpline.
This work is on top of specialised training for key colleagues, supplier risk assessments, a recorded webinar and Unseen hub membership.
Runners-up
Robin Sundaram, Nestlé UK
Ian Hawkins, NBCUniversal
Hitomi Walter and Ryan Antillon, Wellcome
Work with Unseen's Business Services
At Unseen, we work with businesses of all sizes and sectors on their approach to modern slavery. If you're inspired by these stories and want to learn more about how Unseen Business can help you make a difference, contact us today.